Get your jingle on this holiday season. There is no better way to get into the Christmas spirit than singing Christmas Carols with your toddler!
Fun Things for Toddlers have you covered with our list of upcoming Christmas Carols in and around the Gold Coast.
Christmas Carols & Markets Bethania
WHEN: Saturday, 20th November 2021 from 5.30pm to 8.30pm
WHERE: Bethania Lutheran School: 66 Glastonbury Drive, Bethania QLD 4205
Start the Christmas Season with us.
Lots of fun for the whole family including a Christmas Carols, Food Vans, & Market Stalls.
On the green from 5:30pm – 8:30pm
BYO picnic blanket!
Arundel Parkwood Community Carol's
WHEN: Saturday, 27th November 2021 from 6pm
WHERE: Abbott Park: Parkwood Blvd, Parkwood QLD 4214
Free entry, have fun with the family!
Christmas Carols, Food Trucks, Sausage Sizzle Glow Sticks and Fireworks. Activities from 6pm, Fireworks 8pm
Brought to you by Parkwood Rotary and Rotary Club of Ashmore. Proudly Supported by Cr Ryan Bayldon-Lumsden Division 7 City of Gold Coast.
Jimbooma Christmas Carols 2021
WHEN: Saturday, 27th November 2021 from 6pm to 8pm
WHERE: Jimboomba State School: Mount Lindesay Hwy, Jimboomba QLD 4280
The Jimboomba Christmas Carols are BACK, and you are invited to join us on Saturday 27th November for a fun, free family friendly event.
We have incredible night planned, including JC Family Church & The Music Education Centre choir, local school choir, fireworks and so much more!
WHEN: Sunday, 28th November 2021 from 4.30pm to Sunset
WHERE: Firth Park: Somerset Drive, Mudgeeraba QLD 4213
Join us for a night of local acts, Carols and festive cheer.
Local schools acts, food trucks, jumping castles and much more!
4.30pm till Sunset.
Sanctuary Cove's Carols On The Green
WHEN: Thursday, 2nd December 2021 at 5pm
WHERE: Sanctuary Cove: Masthead Way, Hope Island QLD 4212
Christmas Carols are set to fill the air at Sanctuary Cove, as locals sing along to their favourite Christmas songs at the annual Carols on the Green
The Marina Lawn will come alive as the Sanctuary Cove community gathers for a night under the stars to raise funds for local charities.
The Christmas spirit will continue in the marina-front precinct with interactive displays to be scattered throughout The Marine Village which will provide the perfect backdrop for festive photos including Santa's Sleigh, Christmas Tree, Gift Box and Santa's Letter box.
Christmas in the Village-Lions Twilight Markets & Xmas Carols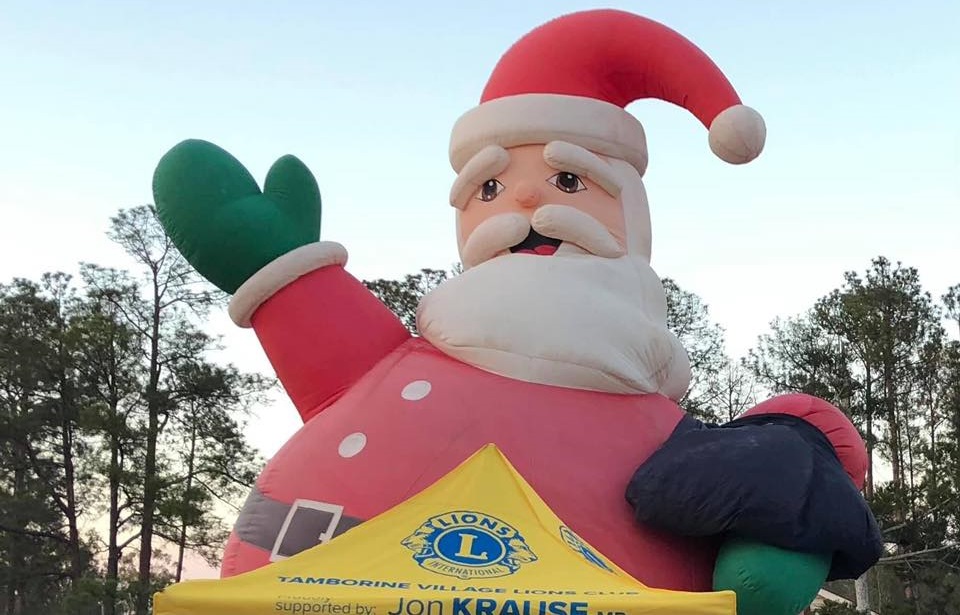 WHEN: Friday, 3rd December 2021 from 5pm to 8.30pm
WHERE: Tamborine Memorial Hall Grounds: 2760 Waterford Tamborine Rd, Tamborine QLD 4270
This annual event organised by the TVLC will mark 11 years of their services to the community and bringing together the magic of Christmas to the Village.
This years event will conjoin to celebrate Tamborine Memorial Hall Centenary and the Tamborine District Citizens Association's 40 years Service to this Community. There will be a Hall Memorabilia Stall & cutting of cake by TDCA President Syd Norman will take place @ 5:45 all are welcome to join in this community celebrations…
Bring a Blanket or Chair. Food available for purchase @ the Lions Food Stall in the Hall. Lions Christmas Cakes and Puddings available to purchase at the Lions Cake Stall.
Live entertainment : Satin Sounds with local talent, SongByrds Choir and Sharyn Smith on the Piano.
Kids are invited to dress as elves.
Twilight Markets @ 5pm
Christmas Carols @ 6pm
Santa arriving @ 7pm
Free glow sticks & Popcorn @ Lions Community Table
Free Fairy Floss donated by TVLC @ Tamborine Bulletin Stall.
12 Hams of Christmas Raffles will be drawn from 6:30pm throughout the night..
So please collect your tickets from Tamborine Produce Shop, call 0401217347 or buy them on the day..
$2 per ticket or $10 per book of five tickets.
Gold Coast Mayor's Christmas Carols 2021
WHEN: Saturday, 4th December 2021 from 5pm to 9pm
WHERE: HOTA (Home of the Arts): 135 Bundall Rd, Surfers Paradise QLD 4217
Tickets on sale Mon 15 Nov, 12pm.
Kick off the Christmas season at HOTA!
In its tenth year, the Mayor's Christmas Carols will be hosted here on our Outdoor Stage, presented by Village Roadshow Theme Parks and supported by 7NEWS Gold Coast and 1029 Hot Tomato.
Two of Australia's most loved performers, Kate Miller-Heidke and Dami Im will perform with an all Queensland cast of local support acts, including Warner Bros. Movie World's Looney Tunes Christmas Show, David Devito, Frankie and the Holiday Seasons and the Brisbane City Gospel Choir plus many more!
The evening will be hosted by 7NEWS Gold Coast presenters Amanda Abate and Steve Titmus and 1029 Hot Tomato's Emily Jade O'Keeffe and Carla Tooma.
This free family friendly celebration will commence at 3pm with interactive kids fun including Santa and Looney Tunes meet and greets! The main show will kick off at 5pm and conclude with a festive fireworks finale at 9pm.
Wesley Kids is the charity for this year's event and will be onsite raising much needed funds for mental health services for Gold Coast children and their families.
Labrador Christmas Carols & Twilight Market
WHEN: Saturday, 4th December 2021 from 4pm to 9pm
WHERE: Labrador State School: Gordon St, Labrador QLD 4215
Christmas Carols and Twilight Market will be held this year on Saturday, 4th December from 4pm until 9pm!
Come and along for:
• Food trucks and a sausage sizzle
• Labrador Star Talent Show Contestants
• Labrador State School Choir
• Activities from 4pm until 6:30pm
• Fireworks and glowsticks
• Santa!
Hope to see you there!
WHEN: Sunday, 5th December 2021 from 5pm to 8pm
WHERE: Elanora State School: K P McGrath Dr, Elanora QLD 4221
An evening of family fun, enjoying community and the spirit of Christmas ✨
Relax on the lawn under the stars and sing your favourite carols, along with a live band. Lots of fun for the kids too – activities, jumping castles, puppet shows and more!
Entry opens at 5pm for food trucks and activities. Carols start at 6pm. Bring a picnic rug or chair.
Book your spots!
Christmas at The Club, Parkwood
WHEN: Sunday, 5th December 2021 from 5pm
WHERE: The Club at Parkwood Village: 76-122 Napper Rd, Parkwood QLD 4214
Come down to The Club this December the 5th and celebrate Christmas in style with this fun and FREE event 🎄
Bring the family along for:
🎅 A visit from Santa
🎷 Christmas Carols performed VerseOne Music & Christmas Music
📩 Send your "Letters to Santa" Letterbox
Currumbin Community Christmas Carols 2021
WHEN: Monday, 6th December 2021 from 5.30pm to 8pm
WHERE: Galleon Park: 59 Galleon Way, Currumbin Waters QLD 4223
Presented by Division 14 Councillor Gail O'Neill – Currumbin Community Christmas Carols is a traditional Christmas carols concert held annually at Galleon Park, Currumbin Waters.
Children's entertainment, Santa appearance, laser light show.
This is a COVID Safe event. Please follow the COVID Safe rules and work together to keep everyone safe throughout the event.
Studio Village Community Carols
WHEN: Friday, 10th December 2021 at 6.30pm
WHERE: Studio Village Community Centre: The Esplanade, Miami 4220
Join us for a FREE Christmas Event at Studio Park. Gates open at 5:00PM
Nerang Celebrates Christmas
WHEN: Saturday, 11th December 2021, Entertainment from 3pm
WHERE: Bischof Pioneer Park: 38 Nerang Street, Nerang 4211
Nerang Celebrates Christmas comprises of community minded volunteers who wish to give back to their local community by providing an annual Christmas event.
Christmas Entertainment from 3pm. Traditional Carols and Santa at 6pm. Fireworks Finale 8.30pm.
Purchase tickets for $2 rides, Drinks, Fairy Floss, Sausage Sizzle and a Variety of Food Stalls.
City of Logan Christmas Carols
WHEN: Saturday, 11th December 2021 at 3pm and 8pm
WHERE: 68 University Drive, Meadowbrook QLD 4131
Get into the Christmas spirit and join in on the city's biggest Christmas event. This free, family-friendly event will have you singing along to all your favourite Christmas carols.
Bring your own picnic or enjoy a fantastic variety of delicious food available. Get a free photo with Santa or book in for a meet and greet with Bluey!
Take part in some free face painting, free Christmas putt putt or explore the Christmas markets in Santa's village.
The amazing concert will finish with a spectacular fireworks display!
Come along with the whole family – this is a night not to be missed!
Christmas Carols Tweed Heads
WHEN: Saturday, 11th December 2021 from 6.30pm to 8.30pm
WHERE: Seagulls Club: Gollan Drive, Tweed Heads West NSW 2485
Get into the Christmas Spirit when our annual Christmas Carols return to the foreshore, Saturday 11 December!
From 6:30pm, enjoy all your favourite Carols and then enjoy a fireworks display over the water!
Christmas Carols & Market Night
WHEN: Saturday, 11th December 2021 from 4pm to 8pm
WHERE: Underwood Park: 982-1006 Underwood Rd, Priestdale QLD 4127
A night of Food Stalls, Food Trucks, Bar & Santa all with a back drop of beautiful live carols.
Party
Christmas in Highland Reserve
WHEN: Saturday, 11th December 2021 from 5pm to 8pm
WHERE: Tallowwood Park: Rose Valley Drive, Upper Coomera QLD 4209
From 5 – 6:30pm the Highland Reserve Community Group will be hosting a variety of Family friendly activities. Then from 6:30pm till approximately 7:45pm CrossLife Upper Coomera Church and friends will host Simply Carols, a laid back, sing along to some traditional Christmas Carols.
So come along, bring your picnic blanket, chairs and enjoy a great time at Christmas in Highland Reserve.
Thanks to long time supporters Cr Donna Gates and Mark Boothman MP.
The Lord Mayor's Christmas Carols Brisbane
WHEN: Saturday, 11th December 2021 from 4pm to 9pm
WHERE: Riverstage, City Botanic Gardens, Brisbane City QLD 4000
Enjoy cherished Christmas carols and festive favourites performed live by Brisbane's best entertainers when they take to the Riverstage on Saturday December 11 from 4pm.
The Lord Mayor's Christmas Carols is a FREE event for kids 18 years and under and $5 per adult. Tickets go on sale at 10am, Wednesday 1 December 2021 via Ticketmaster.
The show will be broadcast on Channel 9 on December 19.
Southport & Burleigh Churches of Christ's Community Christmas Carols
WHEN: Saturday, 11th and Sunday, 12th December 2021 from 4pm to 7pm
WHERE: Southport Church of Christ: 1 Griffith Way, Southport QLD 4215
You're invited to Southport & Burleigh Churches of Christ's 2021 Community Christmas Carols! Join us on December 11th and 12th for a festive and joyful Christmas celebration, singing along to your favourite carols. 🎄🌟
4PM | FREE face painting, sausage sizzle, jumping castle and activities
5.30PM | Christmas carols
Christmas Carnival & Carols, Paradise Point
WHEN: Sunday, 12th December 2021 at 12pm
WHERE: Paradise Point Bowls Club: 22 Thrush Avenue, Paradise Point QLD 4216
Be sure to clear your calendar and roll up for the club's merry Christmas Carnival & Carols.
Entertainment includes:
🪄 Nik Nat the Magician at 1pm
🎤 Christmas Carolers from 5pm on the green (BYO blanket)
Kids Activities:
🏰 Jumping castles, animal farm, reptiles, face painting, and more!
PLUS 100 prizes to be raffled off including a TINNY!
It's a day so huge, even the big man, Santa himself will be making an appearance.
The proceeds will go to The Sanctuary and Pride of Bettermen Inc.
2021 Pacific Pines Christmas Carols
WHEN: Sunday, 12th December 2021 from 3pm to 7pm
WHERE: Central Park: 149 Pacific Pines Boulevard, Pacific Pines QLD 4211
Pacific Pines Christmas Carols including performances, market stalls, food trucks, fireworks and Santa.
Coolangatta Christmas Carols 2021
WHEN: Sunday, 12th December 2021 from 4pm to 8pm
WHERE: Queen Elizabeth Park & Esplanade, Marine Parade, Coolangatta, QLD, 4225
Coolangatta's Queen Elizabeth Park will come alive with the spirit of Christmas on Sunday 12 December 2021, with the free Coolangatta Christmas Carols.
Presented by Division 14 Cr Gail O'Neill, attendees will be able to sing along to their favourite carols, enjoy spectacular festive performances, and settle in for a magical night under the Southern Gold Coast stars. Santa will be making an appearance by plane with plenty of entertainment for everyone to enjoy.
The Coolangatta Christmas Markets and food trucks will be open from 4pm (Qld time), with the stage show starting at 5.30pm, and the event finishing with a fantastic festive fireworks display.
North Burleigh Carols by the Sea 2021
WHEN: Tuesday, 14th December 2021 from 4pm to 8pm
WHERE: Ed Hardy Park: The Esplanade, Miami 4220
Join us for a wonderful afternoon and evening of free Christmas entertainment and fun at Ed Hardy Park this December.
Presented by Division 12 Councillor Pauline Young – City of Gold Coast, 'North Burleigh Carols by the Sea' will provide a festive mixture of children's activities, food trucks and markets from 4pm to 6pm followed by Christmas staged entertainment including Carols, Community Groups and Live Music from 6pm to 8pm.
Carols By Candlelight & Twilight Markets
WHEN: Friday, 17th December 2021
WHERE: Beenleigh Historical Village & Museum: 205 Main Street, Beenleigh QLD 4207
Find local handmade gifts at our annual Twilight Christmas Markets, then enjoy Carols By Candlelight under the stars in the Historical Village grounds.
*Gold coin donation entry, per person. Gates open 4:30pm. Carols from 6pm. Bring a blanket.
*Market stalls still available. Call 07 3382 0608 to book.
Eagleby Christmas Carols & Games
WHEN: Friday, 17th December 2021 from 4.30pm
WHERE: Eagleby Giants: 1 Bishop Street, Eagleby QLD 4207
Jacobs Well Community Carols By Candlelight hosted by Jacobs Well & District Progress Association. Children's entertainment and sausage sizzle from 5pm. Carols start at 6.30pm.
Come early to see Santa!
Jacobs Well Carols By Candlelight
WHEN: Sunday, 19th December 2021 from 5pm
WHERE: Riesenweber Park: 1875-1879 Stapylton Jacobs Well Road, Jacobs Well QLD 4208
The Eagleby Giants footy field will transform into the Eagleby Carols concert specula!
Bring your chairs and blankets and enjoy 6 professional bands and a visit from both the Christmas Grinch and Santa.
Games at 4.30pm. Carols at 6pm.
WHEN: Monday, 20th December 2021 from 4pm to 7pm
WHERE: Southport Yacht Club: 1 MacArthur Parade, Main Beach QLD 4217
FULLY BOOKED – JOIN WAITLIST!
'Tis the Season to join us at Southport Yacht Club for our annual 'Carols on the Broadwater'.
A family fun evening of live carols, face painting, games, and carolers overlooking the stunning Broadwater.
Christmas themed Buffet. Adults $39, Kids $19.
Make sure you stay around and watch Santa's Jetpack show! His big departure will be a night to remember for all.
Table bookings are essential – be quick this is one of our biggest evenings of the year!
Christmas Carols Yarrabilba
WHEN: Friday, 24th December 2021 from 6pm to 7pm
WHERE: Yarrabilba State Secondary College: 22-60 McKinnon Drive, Yarrabilba, 4207
CHRISTMAS CAROLS … Come Sing Along!
We invite you to join us on Christmas Eve at 6pm for an hour full of family fun!
There will be lots of Christmas Carols, giveaways plus more!
Tickets are limited until sold out.
Doors open at 5.45pm. Please note there is no reserved seating.
This is a Covid safe event and wheelchair friendly.
NOTE: Ormeau Carols, Broadbeach Christmas Carols and Jacobs Well Community Carols will not be going ahead in 2021.