Chinese New Year, also known as the Lunar New Year or Spring Festival, changes each year, but always falls in January or February. It falls later than our New Year because it follows the lunar calendar.
In 2022, Chinese New Year falls on February 1st. Celebrations will typically last 16 days, starting from Chinese New Year's Eve (January 31st) until February 15th.
The final day of the celebrations is marked by the Lantern Festival. Many people celebration this festival by letting paper lanterns off into the sky.
Inala Lunar New Year Festival
When: Friday, 28th January 2022 at 5.30pm to 9.30pm
Where: Inala Library, Inala Civic Centre, Corsair Avenue, Inala QLD 4077
Celebrate the most important cultural event for people of Vietnamese and Asian origin around the world with us.
Thousands of people participate and enjoy this festival including those from other communities or living in the surrounding areas.
Lunar New Year – Year of the Tiger Sunnybank Plaza
When: Monday 31st of January – Sunday 6th of February 2022 at 10am to 4pm
Where: Sunnybank Plaza and Sunny Park, 358 Mains Road, Sunnybank QLD 4109
You'll find a range of activities and entertainment on offer throughout Sunnybank Plaza & Sunny Park from Monday 31st of January – Sunday 6th of February, to welcome in the Year of the Tiger.
Immerse yourself in all the colour and culture with our seven-day Lunar New Year program, showcasing a variety of cultural demonstrations and performances including Chinese Calligraphy, Lion Dance Performances, Feng Shui Consultations, Cultural Handcrafts, Interactive Fruit & Vegetable Carving, plus more!
BrisAsia Festival
When: 1st – 20th February 2022
Where: 3-week program of vibrant events celebrating the Lunar New Year across 10 suburbs
Returning in February 2022 for its 10th year, BrisAsia Festival brings together a program that celebrates a dynamic fusion of Asian art, culture and cuisine across more than 50 events. The program will feature live performances by internationally acclaimed artists, outdoor festivities and intimate cultural encounters across traditional and contemporary art forms.
The theme for this year is 'connection through culture' and is a call to action to reach out to others, participate and be part of Brisbane's evolving cultural story. Over three weeks from 1-20 February, audiences can experience the transformative power of live performance, learn and grow through immersive workshops and travel the length and breadth of Asia across the incredibly packed festival program that has something for everyone.
Celebrate Lunar New Year – Year of the Tiger
When: Tuesday, 3rd February 2022 at 10am to 10.30am
Where: Inala Plaza, 156 Inala Avenue, Inala QLD 4077
Celebrate Lunar New Year – Year of the Tiger. 🐅
Join us at Inala Plaza to welcome the New Year with the Lucky Lions Performance, Tuesday 1st of February 2022 from 10am to 10:30am.
Lunar New Year Chinatown Gold Coast
When: Saturday, 5th February 2022 at 3pm to 9pm
Where: Chinatown: Davenport Street & Young Street, Southport QLD 4215
On Saturday 5 February 2022, Gold Coast Chinatown will come alive with a vibrant melting pot of colour, cuisine, celebration, and cultural entertainment to mark the beginning of the Lunar New Year, the Year of the Tiger.
This family-friendly event will start in the early afternoon and will run until the evening, delivering a tempting combination of Asian local restaurants, live music and cultural entertainment (including traditional lion dancers), kids activities with hands on workshops, a bar, fireworks and so much more!
Lunar New Year Celebrations at Mt Gravatt Street Food
When: Saturday, 5th February 2022 at 4pm to 9pm
Where: Mt Gravatt Showgrounds 1644 Logan Road, Mt Gravatt QLD 4122
Jam-packed with activities including traditional performances, Chinese music & dance, authentic food, family friendly activities and so much more!
Updated – More Information on Performances by the Falun Dafa Association of Australia, Queensland Branch Inc
Dragon Dance
Falun Dafa is Good (waist drum team)
Fan Dance
Little Children's Song
Waist Drum Dance
Traditional Qigong Exercise Demo
Tang Dynasty costumes show
Guzheng playing (Chinese traditional music instrument)
Xinjiang Ethnic Dance
Ribbon Dance
Guqin playing (Chinese traditional music instrument)
Fu Lu Shou (blessing, fortune, life)
Just added Lion Dance performing at 7pm and 8pm and firecrackers
Moreton Bay Region Lunar New Year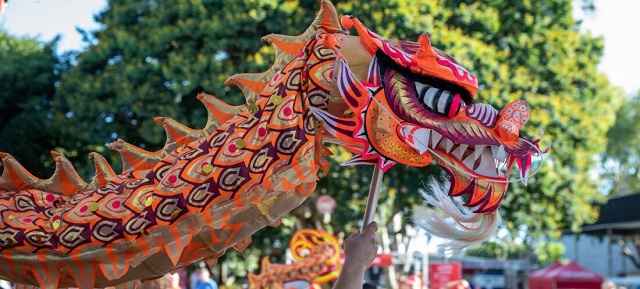 When: Saturday, 5th February 2022 at 4pm to 8pm
Where: Caboolture Town Square, 4 Hasking Street, Caboolture QLD 4510
The Moreton Bay Region Lunar New Year event is once again bringing the vibrant celebrations of the East to Caboolture. It is sure to be a jam-packed, family-fun evening to celebrate the start of the Chinese New Year!
Bring the family down to Caboolture Town Square from 4pm – 8pm on Saturday, 5 February 2022 and experience authentic Eastern culture, history, and entertainment. This amazing free-to-attend event will feature traditional music and dance, mouth-watering traditional oriental food, Chinese Dragon dancing, cultural displays, cracker displays, pyro showcases, market stalls, and workshops. Keep scrolling down to check out our line-up of fun and exciting activities coming this year!
2022 is the Year of the Tiger Tigers are considered to be kind and benevolent figures in Chinese lore. Tigers have rich emotions, make brash decisions and are hard to control – thus, they are usually compared with emperors or kings. They are considered as a patron deity for children and have a strong sense of justice.
But no matter how many difficulties or obstacles a Tiger may face, they will never give up.
Event Highlights:
– Traditional Music and Dance
– Traditional Eastern Food
– Workshops
– Firecracker Display
Lunar New Year Fortitude Valley
When: Saturday, 5th February 2022 at 6pm to 9pm
Where: Brunswick Street Mall, Fortitude Valley QLD 4006
Come and experience Lunar New Year in the heart of the Valley and enjoy the unique flavours and vibrant culture that the Valley has to offer. Why not book a table at one of the Valley's top Asian restaurants to mark this auspicious occasion?
Celebrations and festivities are both fun and free. Expect traditional lion, dragon dances alongside roving street performers throughout the Brunswick Street Mall, Chinatown Mall, Bakery Lane, and within various venues in the Valley precinct to welcome the Year of the Tiger.
Chinese New Year Parade at Carrara Markets
When: Sunday, 6th February 2022 at 11 am – 12 pm
Where: Carrara Markets corner Manchester Road &, Gooding Diver, Carrara QLD 4211
Carrara Markets celebrates the Chinese Year of the Tiger with a spectacular parade with Chinese Dragons and Lion dancers. The magnificent troupe of martial artists will rove throughout the markets from 11am on Sunday 6th February. Bring the kids for great photo opportunities!
Free Entry & Free Parking!
Varsity's Festival of Lanterns 2022
When: Friday, 18th February 2022 at 6pm to 9pm
Where: Varsity College Senior Learning Precinct, 198 Varsity Parade, Varsity Lakes QLD 4227
One of the largest nighttime events in Varsity College's history will usher in the 'Year of the Tiger' in 2022. 'Festival of Lanterns' is set to light up the night with hundreds of lanterns, lights and magical moments.
Join us in the Senior Learning precinct on our Secondary Campus, from 6:00pm on Friday the 18th of February as we celebrate Chinese New Year, the Varsity way. With free entry offered to our College families, as well as everyone in the local community, we can't wait to welcome you to our inaugural event.
Sit back and relax as you're entertained by a host of international artists, including Chinese Lion Dancers and traditional Chinese Drummers. Then watch in awe as the lights dim every 15 minutes for a light show which features more lighting elements than the Sydney Harbour Bridge on NYE!
Then, enjoy a range of Chinese cuisine as our food trucks provide you with tasty treats from across the globe. Featuring six amazing food vendors, there will be something for everyone. For our older guests, there will also be a licensed bar, giving you a chance to wind down after a big week.
Chinese New Year at CHOP CHOP Surfers Paradise
When: 19th, 20th & 26th February 2022 at 5.30pm to 6.30pm
Where: CHOP CHOP Surfers Paradise 3113 Surfers Paradise Boulevard, Surfers Paradise QLD 4217
Join us daily to help celebrate Chinese New Year! From 5:30pm – 6:30pm 19 – 20 & the 26 of Feb for LIVE traditional Chinese entertainment.
Chinese New Year 2022 Celebration at SunPAC
When: Saturday, 26th March 2022 at 7pm
Where: SunPAC 470 McCullough Street, Sunnybank QLD 4109
Traditional Chinese Performance Group INC presents: Chinese New Year 2022 Celebration.
– Traditional Chinese Cultural Dancing
– Chinese Concert Shows
– Fashion Show
– Charity Raffle
– Premiere Show Dunhuang Dance: Thousand Hands Buddha God
Traditional Chinese Performance Group have selected some of the most popular performances to showcase to the public, to celebrate the Chinese New Year 2022.
This is a fundraising charity event. All proceeds from ticket sales will be used to service the nursing homes, and to provide some joy to those who may need it at the most critical period of their lives.
Adult: $20, Child (Under 12): $10. 140 min (with 20 min interval).